History of Vine Vision
Established in 1946, Vine Vision has a deep history in the local communities of Albany, Blakely, and Camilla.  Learn more here!
Our practice was established in 1946 by Dr. A. Earl Taylor.  He completed his training at the Northern Illinois College of Optometry and opened Blakely Eye Care.  His daughter and son-in-law, Doctors Sue and Jerry Prchal, joined the practice when they completed their training at the Southern College of Optometry in 1979.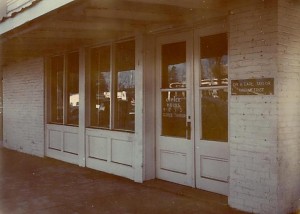 Albany Eye Care was established by Doctors Sue and Jerry Prchal in 1983 in the newly completed Cross Station Plaza.  By 1988, however, the practice had outgrown the location and our current facility was built and completed by September of that year.
In 1991, Dr. Kaye Collier Bryan, a graduate of Southern College of Optometry, joined the practice and further expanded the services our office was able to provide.  In 2009, Dr. W. Matt Harper began caring for patients on a part-time basis and is now seeing patients on a full-time basis in our Albany and Camilla locations.  Dr. Harper graduated from the UAB School of Optometry.  Our practice was newly renovated in the fall of 2011 and included the incorporation of the Vision Source brand as the lead in its naming. Additional examination technologies were added during the renovation, including the "dilation free" Optomap imaging system and electronic medical records.  The practice went full circle with the inclusion of Dr. Joseph Taylor Prchal in June of 2012 upon graduating from Southern College of Optometry. As the grandson of Dr. A. Earl Taylor, the founder of the Blakely office, Dr. Taylor Prchal is continuing his family's commitment to the visual needs of Southwest Georgia.  He continues to care for patients in our Albany and Blakely locations.  With more than 70 years of patient care and experience, Vision Source Blakely is one of the oldest family-run eye care practices in Georgia.
Our practice expanded once again in 2014 to include Camilla Eye Care, and we are excited to have the opportunity to provide patient care in this location.  Vine Vision welcomed UAB School of Optometry graduate, Dr. Kelly Cleary in the summer of 2017, where she cares for patients in our Albany and Camilla locations.